Now you can use your TV to take a loan
The Moveable Property Security Rights Act has enabled banks to diversify collateral, away from using traditional securities like land, allowing borrowers more access to finance.
Sometime in 2018, the Office of the Attorney General quietly set up a system to enable people to use goods as security to borrow, expanding access to finance.
The system is known as the Electronic Collateral Registry and was set up in line with the Movable Property Security Rights Act, which came into force in 2017, along with regulations to implement crucial aspects of the law.
These laws enable the use of movable property as collateral for credit facilities by establishing an office of the Registrar, whose job is to establish an electronic collateral registry for security rights over movable assets where security rights in movable assets may be registered.
The Registrar in effect manages the registry, whose role is to receive, store and make accessible to the public information on registered moveable assets.
Moveable assets according to this law are either tangible or intangible assets. Intangible assets include properties such as deposit accounts, shares in the securities market, warehouse receipts, intellectual property rights such as copyright and patent certificates among many others.
Tangible assets include all types of goods such as motor vehicles, stock, household goods, crops, machineries, livestock. These property rights enable people to use what they have to borrow, thus expanding access to finance.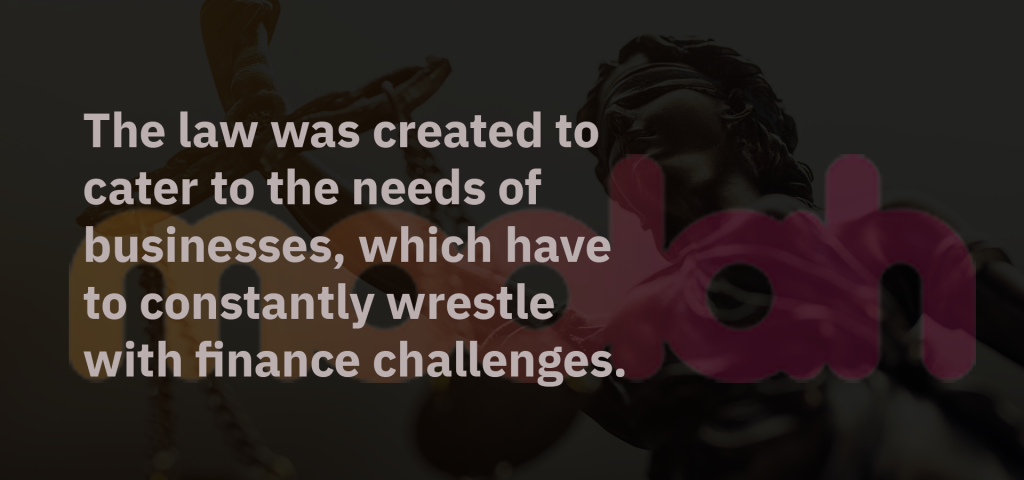 The enactment of the law and the establishment of the Registrar's office means that if you approach a financial institution for a personal or business loan, you can now use moveable property as security.
In the past, one could only use land as security and the closest to moveable property most banks considered was using motor vehicles as security.
How it works
A borrower registers their collateral at the eCitizen online platform. Financial institutions then use the collateral registry to credit score the borrower by determining their risk profile and the credit facility they qualify for.
For artists and innovators, the law allows them to use their intellectual property as security while farmers can now use their crops as security.
Since the registry is electronic, it can be accessed via e-citizen portal under the Business Registration Service (BRS) platform.
However, the creditor is supposed to make the application. For corporate entities, the system does not require one to key in the date of registration of a grantor or a creditor which is a good thing.
According to the Banking Industry Shared Value Report, 2019 by the Kenya Bankers Association, there were 183,487 loans registered on the Moveable Assets Registry worth KSh3.65 trillion ($36.5 billion) as of the end of January 2019.
More than 13,000 searches had been conducted since the launch of the registry in May 2017. The diversity of assets registered on the eCitizen platform demonstrate the immense potential of this innovative system.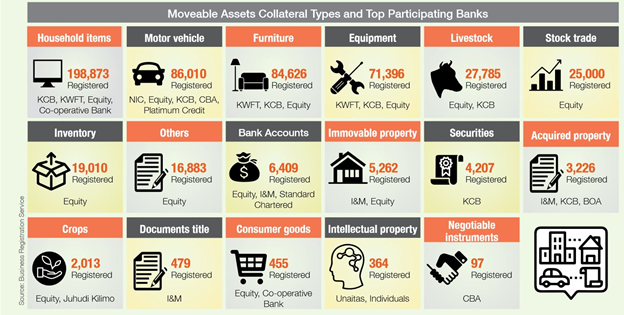 These numbers show good progress but Kenya Bankers Association Chief Executive Officer Dr. Habil Olaka feels there is a need for awareness by both borrowers and financial institutions.
Challenges
Most SMEs are not aware that they can use what they have as collateral to borrow and this is partly why the uptake is still poor. Many artists and farmers can benefit from the value of their copyright and warehouse receipts but they do not seem to be aware of this possibility.
The implementation of the Moveable Property Security law is challenged by the lack of regulations as the law needs to prescribe on a host of issues such as the minimum value of assets to be listed and how their existence shall be ascertained.
This affects what banks can accept when it comes to moveable property and it explains why they gravitate towards property with proper registration systems such as motor vehicles. There is also no mechanism to verify that a person who registers a notice on movable property in their name is the owner of the property and this could eventually lead to disputes around ownership pursuant to registration.
Nothing compels any banking institution or other lender to accept movable assets as collateral. The decision on whether to accept movable assets as collateral will remain within the bank or lender's discretion pursuant to a full risk assessment and depending on the availability of funds for this purpose.
From the report by KBA, it was also evident that the Collateral Registry needs to work on creating awareness on the registry and how its existence contributes to access to credit.
There would also be a need to collaborate with stakeholder groups that represent Small and Medium Enterprises, agripreneurs and artists so as to create awareness and encourage the use and uptake of moveable securities while encouraging banks to accept them.
---