Interest rates by some digital lenders in the Kenyan market
There are several factors to consider before taking up a loan from digital lenders, key among them their interest rates.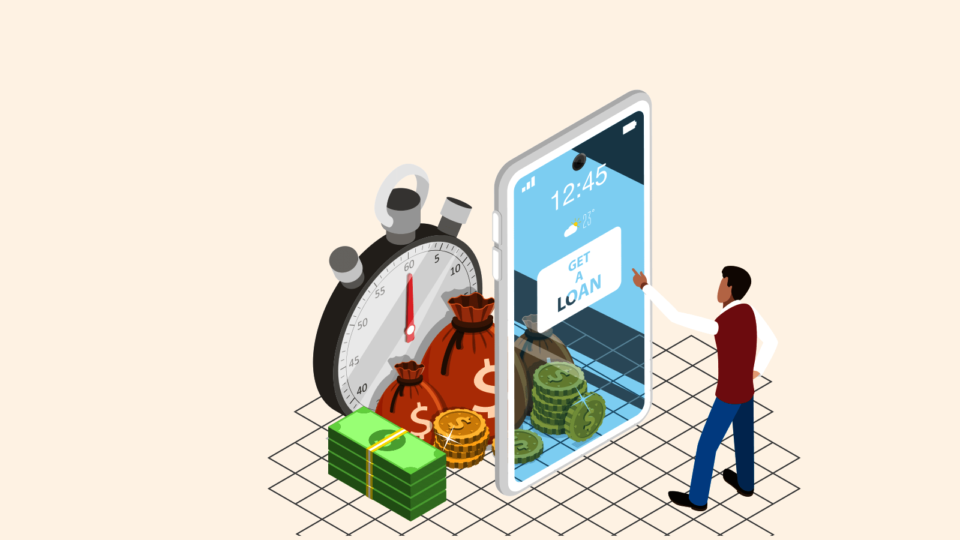 Digital lending has grown rapidly in Kenya in recent years and has become a popular alternative to traditional banking for many people. This is a result of the increasing adoption of mobile banking and the need for accessible credit options in the country. According to the latest Financial Sector Deepening (FSD) report, CBK has received over 381 applications from digital lenders for licensing however only 22 have been approved to operate in the Kenyan market space.
According to recent market research, digital lenders now account for a significant portion of the lending industry in Kenya, and this trend is expected to continue. In Kenya, M-Shwari accounts for 29% of the local market share, followed by KCB M-Pesa at 12%, then Equity Eazzy, Tala and MCo-op Cash at 4%, 1.8% and 1.3% respectively.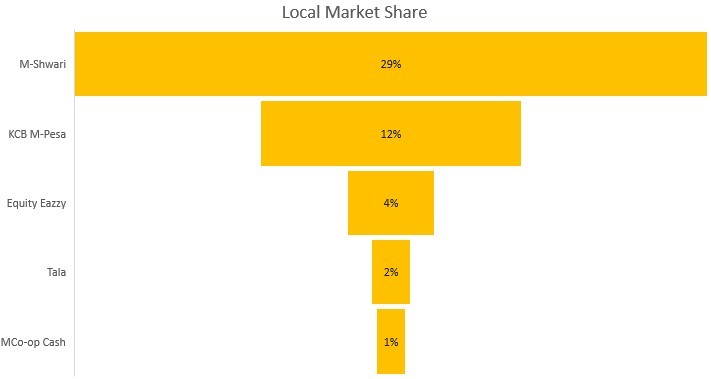 Compared to banks, digital credit services are cheaper, more accessible, convenient, and have a faster loan approval process. However, while digital creditors can offer many benefits, there are also some potential drawbacks to consider such as lack of regulation, limited information, and data privacy concerns.
When looking into digital credit lenders, it's important to consider several key features. These features can greatly impact the loan process, repayment terms, and overall experience. We have therefore highlighted some of the digital lenders approved by CBK and highlighted some of their key features.
Flash Credit Africa
This is a technology-based company that offers salary advance loans to employed individuals in Kenya earning a net salary of Ksh 30,000 and above.
The interest rate is 20% per month and the loan is given on a third of your net salary.
To be eligible for a loan, your company has to be registered with Flash Credit Africa as a member.
Jijenge Credit Limited
This is a non-deposit-taking Micro Finance Lending Institution operating in Kenya, Sudan, and Tanzania that offers loans to both individuals and businesses.
The interest rate ranges between 1% and 7% per month and the maximum loan amount given is Ksh 10 million.
Kweli Smart Solutions Limited
Loans offered by Smart Kiosk are of a short-term nature, between one month and 12 months, for both businesses and individuals.
Loans for businesses have an interest of 7% per month with a reducing balance on the principal outstanding.
For individuals, there is a credit limit of up to Ksh 140,000 with an interest charge of 12% per month. Individuals are also allowed a reducing balance on the principal outstanding. There is a 10% penalty interest on any outstanding principal installment repayment.
Jumo Kenya Limited
Jumo enables real-time access to funds at the lowest possible operating cost.  Jumo offers 7-day, 14-day, and 30 days loans which are available to Airtel users only.
The loan amount and interest depend on the individual's eligibility.
To know your eligibility, dial *333# then click on the Kopa Cash option.
Letshego Kenya Ltd
This is a multinational that supports public and private sector individual customers, as well as micro and small entrepreneurs. Letshego has operations in 11 sub-Saharan African markets, including Eswatini, Ghana, Kenya, Lesotho, Mozambique, Namibia, Nigeria, Rwanda, Tanzania, and Uganda.
Letshego issues business loans from Ksh 300,000 to Ksh 5 million that are backed by either logbooks or title deeds. Interest rates depend on the type of product but are around 2% per month on a reducing balance.
Letshego offers salary advancements as well.
MFS Technologies Limited
MFS Technologies provides loan products to suit the customer and business needs such as stock financing, pay-as-you-go, personal loans, salary advance, and insurance premium financing.
M-Kopa Loan Kenya Limited
M-Kopa is a connected asset financing platform that offers millions of underbanked customers access to life-enhancing products and services. Loans are only offered to individuals that have bought items from the platform.
Mwanzo Limited
Mwanzo gives out loans with an interest charge between 7% and 25% per month depending on the amount of loan given.
Mycredit Limited
Gives logbook loans at a rate of 4% per month.
MyWagepay Limited
Gives salary advances to employees, as well as structured financial well-being tools, including budgeting, savings, and investment tools to help people make smarter and healthier finance decisions that put them on a path to financial freedom.
Employers have to be registered with them for their employees to be eligible for salary advancement.
Ngao Credit Limited
Offers loanbook loans with an interest rate of 3.5% per annum, however, in the case of early settlement, interest can be waivered. The amount given is between Ksh 100,000 and Ksh 5 million.
As an incentive, the company offers a 40% commission on referrals.
Pezesha Africa Limited
It offers salary advance loans to employed individuals in Kenya. Employers have to be registered with them for their employees to be eligible for salary advancement.
Sokohela Limited
 A digital tools provider for micro, small, and medium enterprises in the urban agricultural value chain. Has a buy-now pay-later policy and offers salary advancements as well.
The interest rate depends on the risk assessed.
Umoja Fanisi Limited
This is a relatively new company that started its operations in November 2021. They give credit to women only between Ksh 20,000 and Ksh 30,000 for the first loan.
The interest charged is dependent on the tenure of the loan: 10-week and 15-week loans have a 10% interest charge per annum whereas the 25-week loan has an interest charge of 12.5% per annum.Top of Form