Our Covid-19 response: The Trademark Hotel
Masks. Hand sanitisers. Gloves. Social distanced tables. Restaurants are taking steps to lure back customers and adapt to life during the pandemic.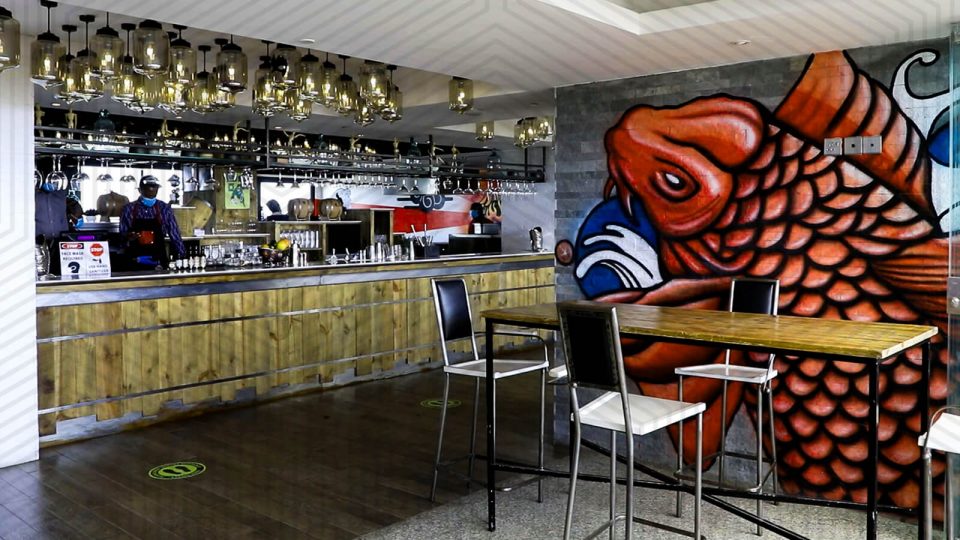 Last year, Trademark Hotel opened Hero Restaurant, a one of a kind bar and eatery with a creative menu at the Village Market. Business was good. Very good. Until the pandemic hit in March.
One of the measures put in place to curb the spread of Covid-19 in Kenya was closure of restaurants and eateries and ban on the sale of alcohol. This measures led to job losses, and substantial revenue losses to restaurants and bars that depend on alcohol sales.
Tribe Hotels Group Food and Beverage General Manager, Richie Barrow, says the alcohol ban should have been imposed to restaurants flouting the guidelines by the government.
"Unfortunately the blanket ban has meant that restaurants abiding by these protocols have also been punished. I understand the need to react once the cases went up but it should have been perhaps, selective, on those establishments that were flouting the rules," says Barrow.
He says the new restaurant, which offers a playful dining experience with cocktails and mocktails, has lost about 50 per cent of its business.
Harvest Restaurant, also owned by Trademark Hotel, is a family style restaurant that changes to brasserie at night and serves grilled meats and sea foods. Currently, is it operating at half capacity because of social distancing rules.
"With Hero dependent on sale of alcoholic beverages, less people are enjoying a meal with a cocktail," says Barrow.
Because of the reduced number of customers, many establishments have had to put their staff on unpaid leave or to let them go.
"Before the pandemic hit, we had close to 300 staff. We tried to keep them on the payroll for as long as we could. One of the ways we helped them was by setting up an App where they could buy goods at wholesale prices. We gave them a KShs.10,000 stipend each so that they could buy goods. At the very least they could feed their families," he says.
But that was not sustainable as currently, the hotel is working with just over 100 staff.
Like many businesses, Barrow says in January, they were looking forward to having a great year especially since all three of the Hotel's restaurants were in the top three best restaurants in the city, and Hero, which was launched in 2019, was already a hit with clientele.
Unfortunately, Covid-19 hit in March and eateries around the country were shut down. Luckily, being a hotel, their restaurants stayed open a bit longer.
There is, however, a glimmer of hope as hotels are now allowed to sell alcohol, but only to checked-in clients on room service basis.
Safety Measures
Immediately the pandemic hit, Trademark Hotel housed some of their in the hotel to ensure they weren't at risk of contracting the disease through daily commutes to and from work. This way, they could keep the staff and their guests safe.
When restaurants re-opened after the shut down in March, all staff were tested. "Everyone that works at the hotel is housed in the hotel to keep themselves, their families and guests safe," says Barrow.
Sanitization spots have been strategically placed around the restaurants.
Customers are required to wear masks and the tables have been spaced as recommended by the government. Additionally, at Harvest restaurant, the sitting capacity is at 50 per cent while at Hero, it is at 40 percent.
On arrival, guests have their temperature taken and they are required to sanitize or wash their hands at designated handwashing stations. The wait staff also sanitise the tables in the presence of the customers to reassure them.
New Ways of Business
The pandemic has changed the business landscape for many companies. To stay afloat, they have had to adjust and adapt to new ways of doing business to continue operations, attract new customers and increase revenue.
For Trademark Hotel, it has meant coming up with exciting packages for its customers, like the 'Stay For Dinner' experience where guests dine on a set menu and then get to stay the night at the hotel for free.
Customers can also order food from any of their restaurants which can be delivered through Jumia, Uber Eats and Glovo.
Hero Restaurant, which was initially a night spot, is now open for lunch.