A Gym With No Name
Munyi Kariithi just opened up a fitness business for the first time. It has been a rollercoaster but he has managed to clear the hurdles so far to become a stronger person and a better entrepreneur.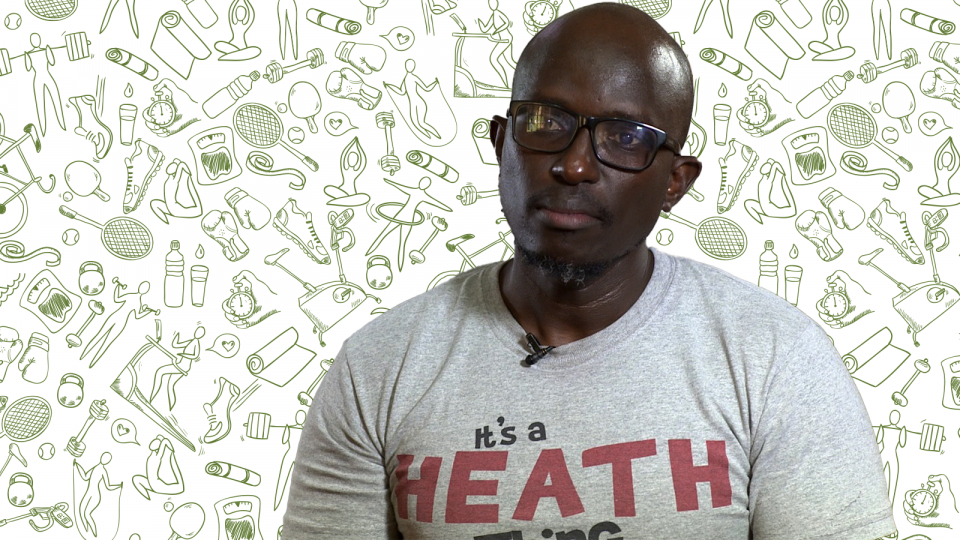 Last year in November, Munyi Kariithi quit his job at a bath and body products company. But he was not jobless for long. For years, he had been toying with the idea of becoming a fitness instructor, and no longer employed, it seemed like the perfect time to start his own gym.
Munyi had already started training a few people in September. It started off in his house with three of his friends as his first clients. And because he had no equipment yet, they concentrated on aerobics.
"I used to ask guys in my WhatsApp groups to come work out at my house for Ksh100 a day. Since it was a small space we would open the doors and windows because it would get too stuffy," Munyi recalls.
He rented a small room for which he paid KSh10,000 as deposit and KShs10,000 monthly rent. With just a carpet and his laptop, A Gym With No Name was officially opened early November.
The name of the gym is an ode to the popular television show Game of Thrones. It was initially meant to be A Gym Has No Name, but the flyers had an error and it was too late to correct the typo.
Raising capital to buy gym equipment was tough. No longer a salaried employee, Munyi dipped into his savings to buy dumbbells, bars, a cross trainer, a treadmill, mirror, television and other equipment for the gym. His friends and parents also chipped in to help him take his dream off the ground.
In total, Munyi says he spent about KSh135,000 for the equipment.
Since gym equipment is expensive, Munyi opted to save on costs by going to jua kali artisans who fabricated dumbbells and weights according to the specifications he needed.
"What most people don't know is that most metal in jua kali costs KSh100 a kilo, whether its flat sheets, rods or bars," he says.
"There's also a local supplier who imports and sells gym equipment at quite an affordable price. Of course, I negotiated and he gave me a good rate. I got a few bars; two Olympic size bars, barbells, a curling bar, and more weights. The average total weight in this gym is currently at 118 kilogrammes, so nobody can say there is not enough quality equipment," he says.
Getting equipment for the gym might have been easier than getting people to come and work out. Munyi was revved up and raring to go. He printed 100 flyers and handed them out to his neighbors. Unfortunately, the reception wasn't as warm as he had hoped.
December came, and it was a rainy and gloomy month. In fact, the last client during that month showed up on the 16th. Being a festive month, no one was really thinking about working out.
January, was the month for financial recovery. In February, a few people showed interest and began clocking in. And then the pandemic hit in March. But unbeknownst to him, it was a blessing in disguise.
"Surprisingly, because guys were at home, March, April, May and June were my best months. That's when I made a lot of money because guys didn't want to sit in the house, so they came to the gym. And then after June, whatever resources people had started diminishing. Are you going to pay rent, pay for fuel or go to the gym? That was also, I think, the same time people were being asked to go back to work. So attendance dipped again," he recalls.
"It is a wonderful business venture anywhere around the world. The problem is the purchasing power of this particular service at the moment is not at the forefront of many people's minds. So I won't say I'm making a killing, yet," he says.
Even with all the challenges he has gone through, Munyi is optimistic that things will look up. All he has to do is have a positive mindset and stay the course.
Along the way he has had nasty experiences with technicians and repairmen as he made payments for equipment that was not made to specifications and was on the receiving end of promises that were not kept.
He has turned these experiences into lessons.
This is not Munyi's first stint at a business. He has caught the entrepreneurial bug many times and his resilience has always seen him dust off the failures, stand up and try again.
He has operated a cyber café, a fruit vending and delivery business, a food kiosk, sold boxers, among others ventures.
"Never give up. The resilient trait I possess cannot be transferred to someone else. I can't wish it away or say 'I've done 10 businesses, now I'm done'. No. If this one fails I'll start another one. Starting a new venture has this certain excitement in it. A friend of mine once told me there are two kinds of people; there are people who start and there are people who continue. I'll always start, I'll be the one with a machete making a new path and then letting others come in and make the place look nice and whatnot," he says.
A Gym With No Name currently has 40 memberships. He however has 20 consistent clients who he trains at various times during the day.